Searching for a home but feeling the pinch of rising mortgage rates and escalating home prices? Here's a silver lining:
Ali Wolf, Chief Economist at Zonda:
"Over the next 12 to 24 months, anticipate a significant surge in the availability of entry-level homes."
The shift towards smaller homes isn't entirely new. The pandemic redefined our perception of 'home'. It became more than just a living space; it transformed into an office, a classroom, a gym, and so much more. Those fortunate enough to have ample space clung to it, while others sought to upgrade from their compact homes. Consequently, the homes that emerged in the market during the pandemic era were generally more compact than their pre-pandemic counterparts. This trend is evident in the graph below, which also highlights the seasonal fluctuations in home sizes. Summer often sees larger homes on the market, catering to families with school-free children keen on relocating.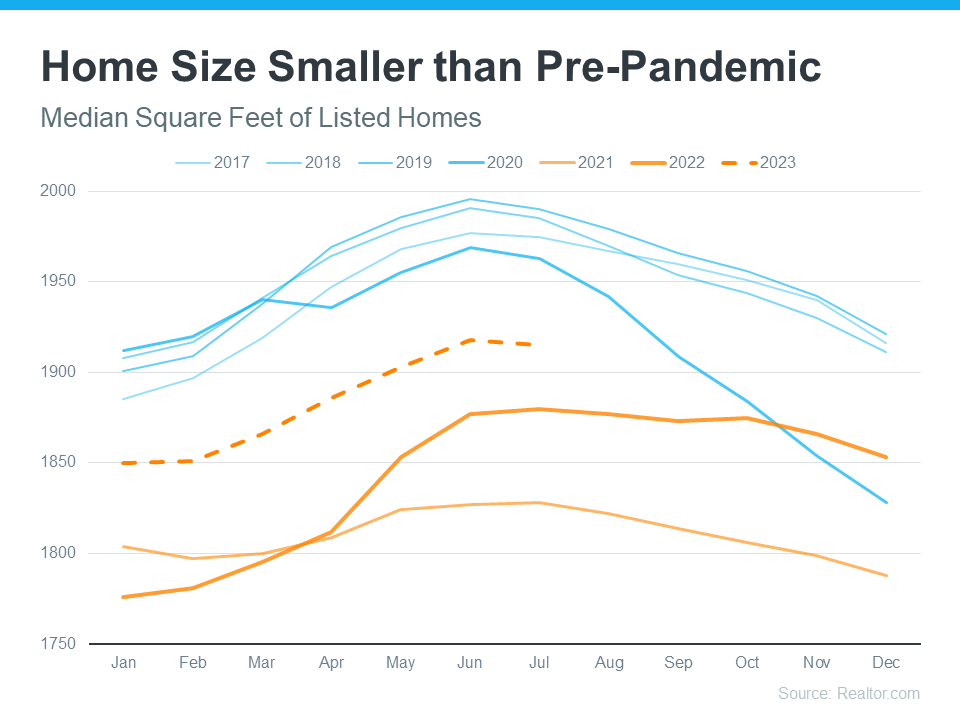 With autumn on our doorstep and drawing from past patterns, we can anticipate a wave of smaller, budget-friendly homes gracing the market for the remainder of the year.
Robert Dietz, Chief Economist at the National Association of Home Builders (NAHB), underscores the growing demand for such homes:
"As 2022 witnessed a rise in interest rates and a dip in housing affordability, the appetite for expansive homes has dwindled."
How Does This Resonate with Your Home Dreams? The latter part of the year traditionally brings smaller homes to the market. Combine this with the current trend of builders introducing cost-effective, compact new homes, and it spells hope for those struggling with home affordability. Mikaela Arroyo, Director of the New Home Trends Institute at John Burns Real Estate Consulting, weighs in on this potential uptick in smaller homes:
"While it doesn't eradicate the affordability challenge, it certainly paves the way for many to realize their dreams of owning a starter home."
In a Nutshell If the idea of a snug, budget-friendly home resonates with you, rejoice – they're en route. To stay abreast of the latest offerings in our vicinity, let's touch base.